20 Best Restaurants in St Petersburg, Florida For a Delightful Dining Experience
The sunshine and pretty city, St Petersburg Fl, has many fascinating things to explore. If you are ready to plan your vacation on the gulf coast of Florida, don't forget to taste the amazing cuisines of gratifying restaurants. St Petersburg's restaurants are the cessation and destination of food-lovers.
In St Petersburg, Florida, you can discover authentic taste in restaurants beyond your imagination. It's a great place as it offers great taste! You can find tons of cuisine fusions with international flavours, including Chinese, seafood, Italian, European dishes, and more, at the heart of the town, St Petersburg. Delicious foods are the speciality of the location; fortunately, there are plenty of restaurants in downtown St to give you the best ever flavours to taste.
Whether you are a first-time visitor in downtown St Pete, Florida or a local one, this guide will absolutely help you in finding the best restaurant in St Petersburg to sate your taste. Here, we have demonstrated the top 20 popular restaurants in St Petersburg to define your happy hours with mouth-watering cuisines. So scroll down and keep reading!
Top 20 Best Restaurants in St Petersburg, Florida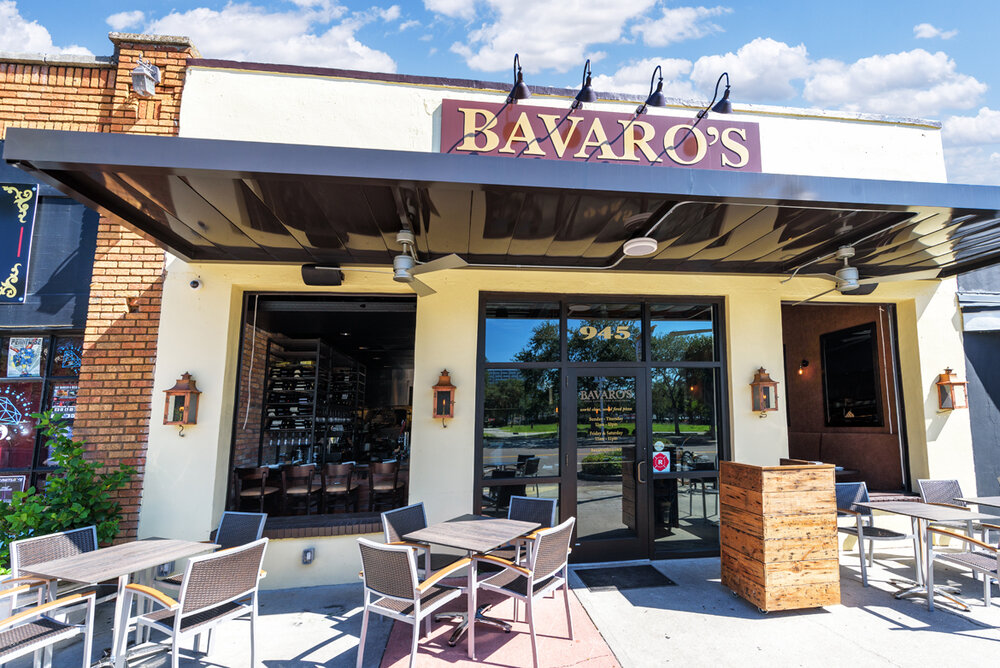 Bavaro's Pizza is a perfect dining location in St Petersburg, Florida, where you can discover the authentic taste of Neapolitan Pizza with its handmade gourmet sauces. It's a family-owned restaurant, started in 2009, and now it has become a limelight eating stop in St Petersburg, Florida.
They follow 100 years old Neapolitan recipes with directly Italy-sourced ingredients. Experience the unique Italia taste in a fresh breeze as the restaurant is committed to providing an overwhelming experience to the customers.
Why you should Eat in this Restaurant
The restaurant uses old-traditional methods to cook mouth-watering Italian dishes. They provide a range of eating options under the umbrella. You can decide on your favourite dish by exploring their menu card.
The place is best to plan a date with a glass of wine and slicking desserts in downtown St Pete. Indeed, the glazing ambience and traditional full-flavoured dishes can make your evening perfect.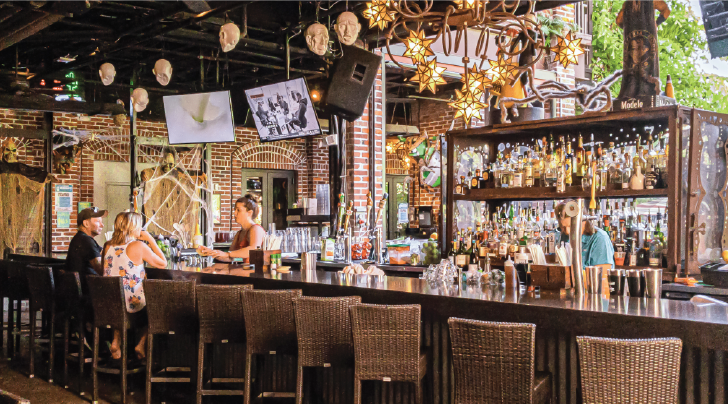 Imagine yourself in a courtyard with uncountable shots of tequila and fountain water whispering in your ears. What's more cozy than this? Red Mesa Cantina is a perfect spot to taste traditional Mexican cuisines with a blend of Latin and Caribbean flavours in downtown St Pete.
The restaurant was established in 1995 and is well-known for its exquisite ceviches and Mezcals. The perfect indoor and outdoor open-space restaurant is an amazing place to spend your evening. Don't look further for your culinary destination, as it's the perfect spot in St Petersburg to eat.
Why you should Eat in this Restaurant
Red Mesa Cantina is popular for serving delicious dishes with bold flavours. The upstairs and downstairs bars can be the perfect seating option to experience the traditional tastes.
If you ever visit this place, don't forget to taste their Mexican brunch, tasty tacos, huevos rancheros, huevos con chorizo, bloody marys, and margarita sangria. It will be a soul-satisfying experience for you.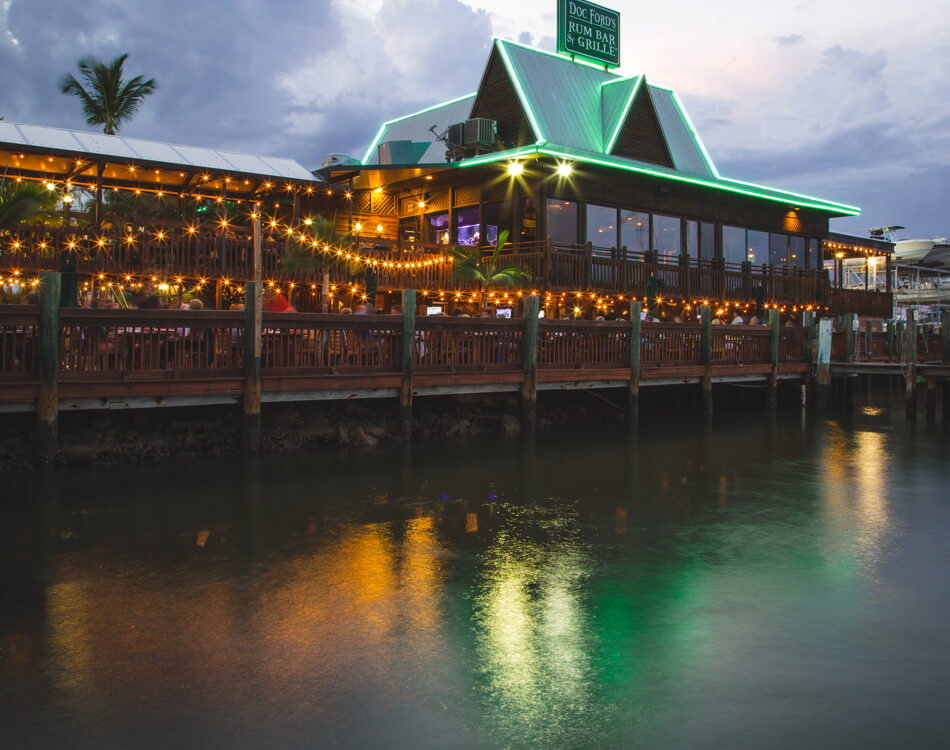 It's a lively foodie's stop in downtown St Petersburg offering special lunch and dinner options with a premium selection of rum. The enticing place is not just famous for mouth-watering foods with quality ingredients but also features eye-glazing views.
It offers a pleasant view of both Tampa Bay and Downtown with exterior and interior seatings with live music. The ample spaced restaurant is an absolute place to enjoy with family. They also offer parties, weddings, events, and ceremonies function services.
Why you should Eat in this Restaurant
Doc Ford's Rum Bar and Grille have plenty of appetizers on the menu. You might get confused while selecting the best food to eat. They offer dishes with a balance of flavours, including margarita flatbread, salads, soups, shellfish, fried calamari, and more.
If you are diet conscious, you can choose from a gluten-free menu. Drunken parrot carrot cake and double-decker brownie are perfect for your taste buds to give a finishing touch.
If you are craving classic Italian food, Gratzzi Italian Grille is the ideal restaurant in downtown St Pete. The restaurant was started by a family offering a vintage environment with an array of classic feasts. You cannot leave the place without order as the moreish essence of food tempts you to taste more.
The Italian restaurant also offers a beautiful ambience with indoor and outdoor table seating where you can enjoy the view of busy streets. No matter what you order, you will never go wrong as it's the topmost eater's stop in St Pete.
Why you should Eat in this Restaurant
There you can order dishes like cavatelli bada bing, Salamon, soup, sultry pasta, Pizza, Zuppa di Pesce, and finish your dinner with cannolis, cheesecake, limoncello cake and more.
The desserts of Gratzzi Italian Grille are famous worldwide for their classic Italian taste. Nothing is more satisfying than devouring an Italian meal in Gratzzi Italian Grille.
If you are on the hunt for one of the coolest St Pete restaurants, Fresco's Waterfront Bistro is your destination. It's the only waterfront restaurant in Petersburg Fl where you can get a menu embraced with vegan, vegetarian, and gluten-free food items.
They have special menu items for kids. Fresco is the best restaurant in St Petersburg; to enjoy brunch, lunch and dinner with your loved ones. Indeed, you will get an exceptional eating experience at the place.
Why you should Eat in this Restaurant
You can start your dining experience in the fabulous place in St Petersburg with a cup of lobster bisque that gives you rich and light flavour. They offer both indoor and outdoor seating in an enchanting environment.
You can enjoy outdoor seating on deck with Ahi tuna and grouper sandwich, mouth-watering seafood on the side of the beach and so on. Look no further; delicious cuisine, cocktails and amazing beach views are enough to satisfy your core heart.
If you are in the mood to have a luxurious dining experience, Cassis St. Pete is the perfect downtown St Pete restaurant. There you can find a delightful combination of American, French, and European entrees.
Ideally, the place is the favourite spot of American cuisine eateries. They offer fantastic indoor and outdoor seating in a vibrant and pleasing environment right on beach drive downtown. The staff and all the team members are professionals providing exceptional services.
Why you should Eat in this Restaurant
Looking for unique places in St Pete? It's the one! They have a plethora of menu items to explore, and all are cooked with traditional methods using the finest ingredients. You can end your stressful day in their raw bar as they are voted the best happy hour place in Tampa Bay.
They have delicious bites and leisurely meals for vegetarians, vegans and also gluten-free food items for fitness freaks. Chipotle chicken quesadilla, steak with flavoured sauce, flatbreads, blackened grouper sandwich, macarons, sundaes, sorbet, house-cured smoked salmon, and more are the popular dishes to eat.
If you are in search of the best Italian cuisine, don't go wrong, Bellas Brava is the best restaurant in St Petersburg to visit. It is located in St Pete's wonderful edge district, serving stunning traditional dishes combined with American dishes and an extensive wine list.
They emphasize great customer service, and you can gain lifelong memories of this place. Its nearby shopping complex and Museum of Fine Arts attract visitors to the wonderful water view from the comfortable seatings of the restaurant.
Why you should Eat in this Restaurant
Their small plates menu is for everyone that is enriched with fresh American ingredients to spice up Italian recipes. The trattoria-styled restaurant has a profusion of dishes on its menu, such as chicken pesto melt, trattoria meatballs, Bella bruschetta with grilled cheese, and hot Sicilian Pizza, salad with twisted sauce and more.
The best part is that it's a dog-friendly Italian restaurant in downtown St Pete where you can enjoy from Tuscany lunch to a delightful dinner.
At Still Waters Tavern, you can find classic American dishes blended with international flavours. It is situated in the heart of downtown St Petersburg where you can plan your grand events.
You can start the mouth-watering delights with their small plates accompanied by salad with sprinkled spices. Their bar consists of a variety of brands where you can enjoy a glass of beer, wine, rum, cocktails and more experiencing happy hour.
Why you should Eat in this Restaurant
Delicious burgers, New England clam chowder, smoked wings, fried chicken salad, and an extensive range of seafood are the perfect pave-the-way dishes for food lovers. There you can get vegan, vegetarian and gluten-free food options.
The dining room of the hotel is elegant, where you can plan a perfect evening with your partner under the dim lights. Above all, it's a pleasing eating spot in St Pete to get delightful dishes.
The sophisticated hotel, Sea Salt, is situated in the Sundial Shopping Center in the edge district of Downtown St. Petersburg. It was started in 2015 and gained a renowned place in the industry for its exceptional customer service and delightful seafood items.
Sea Salt restaurant has elegant dining options with an 80 feet long raw bar and a 22-foot-long wine cellar. It's one of the best restaurants in St with central ave, offering inspirational and refreshing tastes in the food.
Why you should Eat in this Restaurant
A range of seafood dishes is famous in Sea Salt restaurant, including avocado stuffed with jumbo lump crab meat, truffled deviled eggs, crab cake, herb-crusted swordfish, and grilled endive caesar salad and many more local cuisines filled with cheese and traditional spices.
There you can also enjoy a refreshing breakfast and brunch with fresh shrimp and oysters. Sea Salt is a recommended hotel to visit in St Petersburg.
10. Bacchus Wine Bistro
Bacchus Wine Bistro is the best hotel to visit and plan parties in Petersburg, Fl, as it is highly recommended by the local people. Here you can explore a pleasurable culinary journey with a french style dining experience.
The menu of restaurant offers a range of dishes with an authentic taste, including french toast with cheese on the breakfast menu. The pleasant interior and exterior seating with eye-glazing views is the dreamy spot to plan a date.
Why you should Eat in this Restaurant
The classy restaurant has a rum bar and wine library where you can experience the cosy feeling. They have friendly staff and an amazing environment to enjoy entrees.
You must give a short to French country salad, Focaccia di Carne, Bacchus grilled cheese, Bacchus Tuna Carpaccio, french onion soup and much more. It's a must-visit culinary destination in St Petersburg.
If you are interested in taking a bite with bold flavours and exotic cocktails, Hawkers Asian Street Food is deemed as the best place to go in Pete. It's one of the best restaurants near The Dali Museum, where you can get a fast breakfast and lunch with a complete vibe.
The ambience of the hotel is family-friendly with a warm welcome. The interior of the restaurant is alluring, where they initially serve Pad Thai. Visiting this culinary station can be an indelible moment for you in memories of St Petersburg.
Why you should Eat in this Restaurant
At Hawkers, you can experience an exotic taste of scratch Asian food items with delicious drinks in the dope atmosphere. They offer gluten-free, vegan and vegetarian dishes for foodies.
Green papaya and shrimp salad, wings & noods galore, steak and kimchi fried rice, chee cheng's char kway teow and much more are the must-try meals of the restaurant. It's one of the most pleasing Pete restaurants.
Are you a sushi lover? Or in the mood to try Japanese? Sushi Sho Rexley is the ideal place to go. It's one of the best restaurants in St Petersburg Fl to experience omakase food. It's a Japanese-styled restaurant where omakase means a menu or dish designed by the chef.
It can be a great experience for your taste buds as the hotel offers true Edomae sushi dishes combining fresh white fishes with flavorful fatty toro, uni, and shellfishes.
Why you should Eat in this Restaurant
Sushi Sho Rexley is an attractive place for tourists and local folks as the place offers exciting dishes to enjoy. Just don't be late; otherwise, you will miss the delicious courses designed by chefs.
If you are a person who loves to splurge on yourself, you must visit this place. There you can feel more love for yourself. However, there are many St Pete restaurants for sushi lovers, but it's unique!
13. The Mill Restaurant
If you are a newcomer to Petersburg, Fl, then you should definitely try the dishes from an award-winning restaurant. The Mill Restaurant is an award-winning restaurant in downtown St Pete for exotic culinary and excellent customer service.
They offer an American meal menu with a southern twist. It's a perfect place for brunch, lunch, dinner, and desserts on small and big plates.
Why you should Eat in this Restaurant
The dishes of the hotel itself define the rustic Americana with Southern and Floridian spins. Their bar is famous across the town for crafted cocktails and elegant glasses of wine. With peaceful music and free wifi, you can enjoy a happy hour.
They rotate the menu with local ingredients and offer mouth-watering dishes such as fluffer nutter french toast, grilled cheese, exotic french roasted mushroom and sundried tomato salad, onion rings with authentic sauce and more.
14. Ceviche Tapas Bar and Restaurant
Ceviche Tapas Bar and Restaurant is a fun and exciting place to visit in downtown St Petersburg. It's the most attractive spot for tourists, close to the waterfront and The Dali Museum.
They have been welcoming guests for over twenty years with their authentic Spanish dishes and bona fide wine varieties in the bar. Ceviche brings all the pleasant things together, such as yummy food, cockatiel, and lively music to stimulate your happy hour.
Why you should Eat in this Restaurant
This downtown St; the located alluring hotel provides the perfect indoor and outdoor seating to share plates, stories, and love with your friends and family. They have vegetarian, vegan, and gluten-free entrees on the menu. You can try your favourite dish at the must-go place.
Gambas Y guacamole, Mahi-mahi Al Papel, Ceviche De La Casa, Champiñones De Sevilla and more are the popular dishes in Ceviche. You can eat the best Spanish dish while enjoying Flamenco shows at night. It really makes you feel great.
15. 400 Beach Seafood and Tap House
400 Beach Seafood and Tap House is a world-famous restaurant near the beach drive in downtown, and it's the finest culinary destination for visitors and locals. The restaurant delivers American food using fine ingredients sourced from local farmers and ranchers.
The Petersburg Fl based restaurant has indoor and outdoor-friendly seatings with free wifi. Here you can enjoy private and reserved seating with your loved ones.
Why you should Eat in this Restaurant
You can get a soul-satisfying diner experience in the restaurant where you can get an array of items on the menu. Their Nouveau American meal and seafood are best to eat.
Along with this, you can explore more vegan, vegetarian, and gluten-free dishes, including steak, garlic grilled chicken, seafood, delectable wine, craft beer, and imaginative cocktails.
16. Teak
Teak is one of the best restaurants in St Petersburg, which is located on the fourth floor of the Head Pier Building. The hotel offers a serene ambience with 360 degrees of waterfront view.
Here you can enjoy brunch, dinner, desserts and drinks. Plus, they also offer special plates for kids. Their menu is nautical-inspired, especially designed by professional chefs.
Why you should Eat in this Restaurant
This downtown St Petersburg-based restaurant has unique food items on the menu. Whether you are a visitor or a local, you will definitely love the delightful dining experience.
You can order a plethora of items such as Cinema Popcorn Coconut Shrimp with pina colada dipping sauce, scallop Crudo, Winter Rental Sampler Platter, which consists of gulf oysters, mini tabasco, cocktail shrimp, cocktail sauce, horseradish, parmesan fries, Steak Frites which have Teak spiced 6oz sous vide hanger steak, greek chimichurri yoghurt and much more. You can get unique drinks in the bar to refine your mood.
17. The Avenue DTSP
Showing contemporary American recipes peppered with natural fresh ingredients and perfect ambience is the speciality of this downtown St Pete located hotel. The Avenue DTSP is a fine place to visit with kids as the restaurant offers a TV and game zone.
It's a wonderful spot in St Petersburg where more than 40 TVs are installed with pretty games where you can stay for a long time. It's a chill and entertaining place.
Why you should Eat in this Restaurant
If you ever visit Petersburg, Fl, for shopping and wonder about The Dali Museum, don't forget to explore this restaurant. It's just a mile away from the museum where you can spend your quality time.
If you are a discerning foodie, this place is ideal for you. Your best bet comes here for burgers, wings, Korean BBQ Pulled Pork, grilled chicken, chicken tenders, craft beer and cocktails with 2 bars.
18. Renzo's St. Pete
You will not have short options to eat and drink here! Renzo is one of the best St Pete restaurants, established in 2009. It's an Argentine-style steakhouse inspired by South American foods and traditional dishes.
You cannot only enjoy delicious food but the garnishing and plating will please your eyes. They followed a simple philosophy of delivering fresh and exciting food to give an unparalleled dining experience to the customers. You can enjoy the dishes in indoor and outdoor seating with alluring nearby views.
Why you should Eat in this Restaurant
Renzo offers a unique menu consisting of Caribbean lobster tail, Corvina Romana, and Chilean sea bass. This downtown St Pete located restaurant is widely curated for the ultimate steakhouse experience.
Furthermore, here you can find vegetarian options as well as meals for diet-conscious people. Overall, it's an artistic and family-friendly restaurant.
19. Ford's Garage
At Ford's Garage, you can enjoy satisfactory meals. It's the top restaurant in downtown St; where you get the vibe of the 1920s. Guests can dine in an immaculate ambience with upbeat neon lighting. Both indoor and outdoor seating is comfortable for exploring the special dishes on the menu.
If you are a car lover, this place is best to explore. Their interior design is unique and antique as they displayed tire sinks, car-inspired accents and old cars in the bar, dining area, bathroom and at the centre of the hotel.
Why you should Eat in this Restaurant
This Pete-based restaurant has a gastropub and an exciting environment to enjoy your self-company. You can drink and find comprehensive items such as burgers, mushroom swiss and more. They offer crafted beer and special cocktails to uplift your lovely mood.
20. LemonGrass Sushi Thai Tapas
No matter if you are a Susi lover or not, this place will definitely make you try amazing sushi cuisine. Lemongrass Sushi Thai Tapas is conventionally located in downtown St Pete. At this place, you can find delicious Thi and Japanese food with gluten-free sushi options.
The hotel features an elegant dining room with a traditional touch. It's one of the busy restaurants in downtown St Pete as it has many nearby attractive locations for visitors, such as the Florida Holocaust Museum, the Museum of Fine Arts, the Publix Super Market at University Village, and the Dali Museum.
Why you should Eat in this Restaurant
Leading the best of the choices for sushi and other traditional cuisines. Their menu includes an array of unique dishes such as crab and spinach soup, shrimp tempura, and LemonGrass signature roll.
They also offer a wide creation of intriguing sushi rolls that can consume your time, but to taste good, it's right to wait for a while. You can get a heartwarming dining experience at this spot as their staff are friendly and cooperative.
Bottom Line
Downtown St Petersburg Fl has innumerable restaurants to explore as it's the heart of the town allied with many tourist spots. If you ever visit St Petersburg, don't forget to look through this guide as all the restaurants listed here are the best restaurants in St and will help you to eat and experience something memorable.